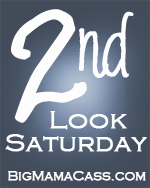 So Cass over at The World Through My Eyes started this thing called 2nd Look Saturday. It's actually a pretty cool idea. It is a chance to feature old posts that you have done that you love and give them some more attention. I have a hard time doing this since my blog isn't really all that old. Then today Cass decided to be lazy. Oh yes I went there. When she did her guest post here last week she gave new life to an old post on her site. Today she used that same post for her 2nd Look Saturday.
One post I love that I have written is one that I did up for a guest post over at her place on June 7th. So today I am going to feature it here. This way it is on my blog too and those who didn't see my guest post will have a chance to read it.  If she can pull this off and recycle all over the internet then dammit I can recycle my post from her site over here. Enjoy!
——————————————————————————————————-

Totally Spoiled
In my household I am a queen. The world revolves around me. I am fully aware of this and totally appreciate it. On any given day you can find me just enjoying life. I do not cook, I do not do bed time routines, I barely do chores. I can even get out of doing the dishes with a "Baby, I love you" in a slightly whiny tone. Come to think of it maybe that is why my son is such a whiner. Because he sees mommy do it and how well it works.
Another example of how wonderful a man Tobei is. Last week the entire house was sick. We all are totally wiped and on our asses for the week. We were so sick Tobei actually ended up with the week off work. It is not very often the doctors give him one day off let alone a week. Tobei is in the military and they seem to think sick days are for wimps and they don't have wimps in their organization. Anyways to get to the point of the story here. I slept every single day of the week away. There was one day I actually slept 24 hours straight and only woke up to eat dinner. Meanwhile though he felt like death himself he kept this house running and taking care of Little Man.
My favorite part of being spoiled besides the fact that I love him and he is a wonderful man. Every morning before he leaves for work he gives Little Man cereal up in our room so I can sleep in. He goes off to PT and comes home an hour later with coffee for me. Can you think of a better way to start your day? I can't. Well besides having a sitter and we get to wake up together cause there is no kid and no work that day.
Last but not least is he lets me be a stay at home mom. Little Man though never mentioned before on my blog is not Tobei's biological son. To him though he is Little Man's dad and no one call tell him any different. He will get up with him when he is sick, take him to the doctors when need be, get him anything his little heart desires. He is there for Little Man every moment and treats him as though he is his own. While doing all that he also let's me accomplish my dream to be a stay at home mom until my son is in school full time. Once that time comes we have already decided and I am going to go become a full time student myself and go to college. If this isn't a stand-up amazing man then I don't know what is.
I am truly spoiled and lucky to have him in my life. I never take him for granted and I appreciate him more than words can ever explain