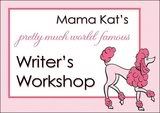 Time to participate in writer's workshop by Mama Kat again. Today I have chosen the perfect prompt. Hoping Tobei reads it as well and decides to put me on a time out. The prompt I have picked is "If you were put in "time out", where would you want to be placed and why?"
Well that is easy. OK maybe not. Is the time out in our home or outside our home. I know.. let's do both.
If I were to be placed on a time out inside my home I would pick my office. I actually get these time outs a lot. On days when Little Man has been a little terror Tobei comes home and banishes me to the office. I love it. Peace and quiet. My computer is in here. It is a great time for me to play catch up, watch some favorite shows online, chat with friends etc. Basically do whatever I want without having to worry about Little Man. They are great time outs.
If it were outside of my home, well I am no stupid girl. Send me to the spa!!! Hot stone massage, manicure, pedicure, hair cut all of it. Please I have been a bad girl. Please punish me with some pampering. I promise to be a good girl until the devil on my shoulder tells me it is time for pampering again. I love the spa. One year Tobei sent me to the spa for an entire day as a birthday present. It was amazing and so relaxing. In fact I fell asleep a few times while I was there. I was so relaxed that I came home and took a nap on the couch.
Where would you want to be placed on a time out?