Isn't TGIF a wonderful thing. Yes it is thank god it's Friday I am talking about. This week went by quickly for us thankfully. I think it helped though that Tobei was off work all of Wednesday and then Thursday morning thanks to us being kicked out of our house. Yes people the ants have died. There was such pleasure in watching pest control spray the inside and outside of my house. Though it was an overcast day I swear for a moment the clouds parted and the sun shined it's little rays of sunshine down on to my house. Ants be gone. Probably going to be a crazy week-end for us. Got to do groceries, need to order a cake for Little Man's party next week and on Sunday we are getting professional pictures done. Hopefully it doesn't rain like they are calling for so that we can have our pictures done outside. It may not seem like we have much to do but let's not forget a few important things. 1) Mommy likes her sleep on Saturday mornings. 2) Little Man naps from 12:30-3:00 every day. 3) We have to be home by 7 to start bed time routine. Doesn't really leave much time in a day to get things done.
We actually got a lot done yesterday since we were kicked out of our house as of 9 in the morning. We went down to the MTO office and got our new plates on our car. They are so pretty. I really like them.  Here is our new licence plate. Obviously not our plate number. This is off the MTO website under choosing your graphic. I hear these plates are a pain to get and there were only a few hundred made. We won ours in a draw at our local canex store. We were meant to have them. The woman told Tobei they actually pulled our ballot more then once (there was more than 1 set of plates to win) but we were only eligible to win once.
We also got proof of Little Man's 18 month immunization. I got it done at a doctor's office that we don't even live in the town they are in anymore and the witch receptionist would not send me a letter stating he had the vaccine. Little Man is allergic to egg whites so I don't want to give him the vaccine again just because the receptionist is a witch. Not having the proof meant I could not use the drop off day care near us and it also meant I could not register him in pre-school which he starts this fall. So we drove out to the doctor's office yesterday and I acted like I never called and pretended to be all sweet. It worked. I now have the proof that he has the vaccine. YAY ME!
So I have one question for you now.
Are you wearing red today?
So it is Friday which means you hopefully are wearing red. If you aren't well why not? Also Friday means it is time for the Social Parade Blog Hop once again. I got my button up and going to bed. In the morning I will start hopping around following people. If you are here from the Social Parade don't forget to leave a comment letting me know you were here.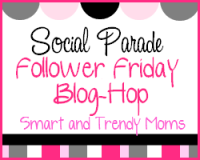 So what are your plans for the week-end? And tell me. How do you get everything accomplished on 1 week-end with a kid who needs their naps. I would love some advice.
P.S. Follow me on twitter @noliesplace I am hooked on twitter and love having people to chat with.