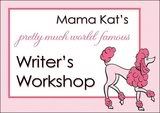 How appropriate that this week at Mama's Losin' It one of the prompts is what summer means to your family. As you have figured out by now from the guest posts I am not supposed to be online right now. We are supposed to be at a cottage. However between the earthquake yesterday morning and the severe thunderstorms in the afternoon I had to come home. I have blogged before about my bad anxiety with thunderstorms. Yesterday there was a tornado warning and it was inching closer and closer to where we were staying. I couldn't take it. I had to come home. My mom says my entire body was vibrating and at that point she knew they had to bring me home (we packed everything in 15 minutes, we rock). So here I am, home early. There is still another guest post lined up for tomorrow. So make sure to come check her out.
I want to share with you what summer means to my family. I am going to share it with pictures.
Summer means enjoying the beauty around you.
(That's my mom at the cottage we were at.)
Summer means Little Man turns another year older.
Summer means many road trips.
Summer means new experiences.
Summer means lots of time to play.
This picture is from Little Mans first Canada Day.
I am running out of pictures that I am willing to share so let me summarize it. Summer means days spent as a family enjoying new things, making memories and enjoying holidays. Summer is the only time we are not cooped up in the house because of snow and we try to enjoy it as much as we can.
What does summer mean to your family?