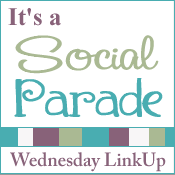 A new link up I just stumbled onto thanks to a blog I stalk follow. In order to participate I need to post this button here then go link up and visit others who have linked up. Since it seems like tonight will be a very boring night I figured why not. The up side to link ups is it's a great way to find new friends and blogs to follow.
If you are visiting from the social parade please look around and make yourself at home. For an easy way to get started click on Best of Nolie's Place for my favorite posts.
You can find my facebook like page at www.facebook.com/noliesplace.