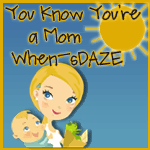 A few months ago Natalie from Mommy of a Monster & Infant Twins told me about a meme called You Know You're a Mom When-sDaze. I never did participate in it but I always looked forward to her post every week. Starting today she is now the new host of this weekly meme so I thought I would give it a shot and try it out.
You Know You're a Mom When…..
You have food stained hand prints on your beige couch and all you can do is shake your head and look forward to buying a new couch in about 15 years.
Your 3 year old is wearing mismatched clothing and you can't help but smile since he did dress himself with no help.
You admit defeat and put all snacks in the upper cabinets so that your 3 year old will stop helping himself to them while you are still sleeping at 4 in the morning.
You have Playhouse Disney tunes stuck in your head and are scared to go to sleep as you may dream about Handy Manny.
You will stay up late just to have some alone time knowing that in the morning you will regret your decision and want more sleep.
You don't care that your living room is destroyed as long as you can find a place to plant your butt on the couch and relax.
So this was my first attempt. I hope you enjoyed it. Natalie does a way better job than I do but I am sure the posts will get better as Little Man continues to push every button I have including those I didn't know existed.
One last one… this video is so moving. I smiled, nodded in agreement and had a few tears because I am such a sap. Fits in perfect with this post as well. Please take a few moments to watch it.
[youtube https://www.youtube.com/watch?v=taDqKWWPDAY&fs=1&hl=en_US&rel=0]
To read more about the video visit Alison's blog post on it appropriately titled Reflections of Motherhood.