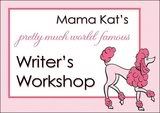 A quick one for today. As usual Mama Kat gave us 5 prompts to choose from for the writer's workshop for this week. Since I am super busy today/this week I went with the easier one to do. The prompt I chose is: 4.) Photographs can turn a house into a home. Share a photograph that is not on your wall, but should be…if you weren't so lazy about actually putting it there.
I have put this picture up on the blog before. I really need to put it up on my wall. I miss my Grandpa very much. This is one of the only decent pictures that are frame worthy of the 4 of us. Little Man was around 3 or 4 months old in this picture.
I have many more that I want to put in a frame. Most recently we went for a family photo shoot and got some really nice pictures. But again my choice to not put recent pictures of my child online have prevented me from sharing them.