Well I am slowly coming out of my blogging funk and am eager to get back out there and meet some new people. In doing so I have decided to participate in this cute little meme I came across called Five Question Friday.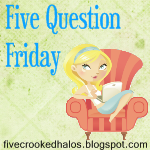 1. What's your view on men wearing sandals (yay or nay)?  As long as they are not wearing socks then all the power to them. There feet deserve to breathe as well.
2. What song do you love but are embarrassed to admit? Hmmm tough one. Can't think of any. Ok that is a lie just went to look at the hosts answers and she said Call Me Maybe. I will admit I love that song. It is so catchy.
3. What summer camp should they make for moms? A spa summer camp with free wifi. I would be in heaven.
4. What is the most romantic song? (Not necessarily your favorite or your wedding song…) Most romantic song? First song that comes to mind that I love is Keeper of the Stars by Tracy Byrd. It was also my dad and step-moms wedding song.
5. Do you have an embarrassing pregnancy story? Don't we all. First time around would be when I thought my water broke. We had friends over and the chair cushion I was sitting on was all wet. Off to the hospital we went, only to come home to tell our friends that it wasn't my water, I had just peed myself. Though I am sure every pregnant woman has done this at least once.