Warning! More pictures than normal.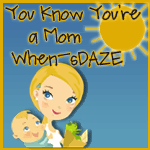 To participate in You Know You're a Mom When-sDaze visit Mommy of a Monster.
You know you are a mom when Tobei does this to our front step to greet all those who knock on our door and you just smile and nod.
You know you are a mom when you go to write up an awesome blog post about their first day of pre-school and it takes you 4 hours just to edit the photos because your child will not nap and give you quiet time.
You know you are a mom when nothing on your To Do list is done and it's 4pm because you child has been hanging off you non stop since they woke up this morning.
You know you are a mom when there is no meat and you are so beyond frustrated you say screw groceries let's call for pizza. Oh yes this is what we are doing tonight.
You know you must be good at this mom thing when you are planning to have another one and can't wait for that day to come. Let's just pray baby sticks and that we have a healthy pregnancy. No I am not pregnant. Planning on it though.
You know you are a mom when you can't wait for tomorrow as it's a school day and you can get crap done.
You know you are a mom when it doesn't matter how bad a day you had you can still look at your child and beam with pride and love for them.
---
Really I just want to share with you about his first day of school yesterday so snuck it into the meme. He started pre-school yesterday. He goes twice a week for 3 hours each. I went with him the first day as it was a drop-in kind of deal. He didn't even care that I was there so I did what any sane mother would do. I came home! Went back to get him at lunch and found out he was amazing, did great and that he didn't even care that I left. As much as that hurts at least I know I raised a child who is independent and doesn't need his mom with him all the time.
Well that is about it for pictures I can share. I didn't take any pictures inside the school to share as it's kind of hard to get my kid without his face. Would be harder to get him from the back and not have any other kids in the picture. At least I got these ones that met my standards for blog posting to share with you guys. Thank you for reading and putting up with my tweets leading up to this major event. Kind of scared what I will be like next year when he starts Kindergarten.