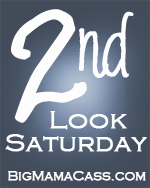 Cass is still out of town so once again I am hosting 2nd Look Saturday for her.
To participate in 2nd Look Saturday just choose a blog from the past that you want to share again with your readers, grab the 2nd Look Saturday button off Cass' site and link up below. Then spread the word and help grow this awesome idea of a meme. Cass will be back next week so be sure to check out her place for the linky next Saturday.
This week I am sharing a post Tobei wrote just because to this day I still totally kill myself laughing at what happened. P.S. This reminds me I need to get on him about posting. It has been forever since he graced us with his presence on here.
---
Originally posted: August 3rd, 2010
My fiance and I are just that… Whilst her nature is based in that of beauty, mine seems to be based in that of habit. Today I had an awfully large reminder of this…
You see, the whole story kind of starts off last night… or rather, this morning at around 3 in the AM. I was having an incredibly hard time falling asleep due to an over abundance of … energy. Fast forward the X amount of time I had actually slept, and I'm off to PT (Physical Training, aka morning torture session with my unit) at a grueling 6:50 in the AM. Needless to say, I zombie my way through those seemingly self-inflicted horrors to return home at about 8:45 in the AM.
Now, today I'm supposed to have the morning off so that I can attend an appointment with my family. So I finish my shower and chat a little with my barely awake (and despite that fact, incredibly gorgeous) fiance Nolie before heading downstairs and grabbing Little Man some cereal. This is where it gets interesting.
Without any forethought what-so-ever… I leave through the back door, making sure to lock the door after I leave, hop in my car, and drive to work. During this 11 minute commute I think of nothing but the driving, and shortly arrive at work. I hop out of the car, put on my beret and walk in the front door of my unit. But just as I was crossing the threshold with the other morning working bees it hit me…
"WHAT THE SWEET F*CK AM I DOING!?" (internally), externally however, I think I said something to the effect of "SON OF A ROTTEN BITCH!" gaining the not-so-adoring attention of all those in earshot. I then do a 180′ turn, and walk straight back to my car completely red faced. But wait, this gets better. As I'm walking to the car I get a text message from Nolie: "wtf are you doing?"… BUSTED, I replied to her… "omw back" and then "I'm such a creature of habit, lol"
Needless to say, I was welcomed back home 10 minutes later to the sound of snickers and hilarious backward glances.
Thanks Hun, like I don't feel stupid enough.
---
http://www.blenza.com/linkies/autolink.php?owner=Nolie&postid=18Sep2010