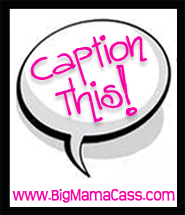 Why oh why do I do this to myself?? Seriously I hate pictures of me, I won't put up pictures of Little Man unless from when he was a baby and I don't put up pictures of Tobei. Yet here I am doing Caption This for Cass while she is off in Denver having fun without me. She better love me for all that I do for her.
So here is how it works as copied from Cass' site so this is her words not mine.
It is your typical Caption This Photograph idea.  Since everyone is always posting Wordless Wednesday (Including moi) I thought what fun would it be if we put a little spin on that.  And by spin, I mean make everyone else do the work for you.  Sounds like a kick ass plan, right?
If you want to participate steal the button from either this post or you can grab it from the sidebar at Casa Di Cass and when you are done your post come back here and link up below. Don't forget to caption our pics and those of everyone participating.
My Pic
http://www.blenza.com/linkies/autolink.php?owner=Nolie&postid=15Sep2010