Hello my faithful readers and those coming on over for the first time. My name is Nolie and I am writing this post to introduce myself to all those attending Bliss at Home '11.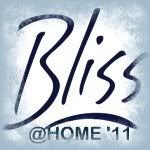 First off what is Bliss at Home '11? Right now as I sit here in the comfort of my own home bloggers are gathering in Nashville for this years Blissdom Conference. I am kind of bummed. I would have loved to have gone but being up here in Canada the costs were too much for me. As I sat here sulking others came up with the idea of Bliss at Home '11. Just because we can not attend the conference does not mean we have to be alone in our misery. Instead we put smiles on our face and get to know one another and learn a few things from the comfort of our homes. Fantastic alternative in my opinion.
So my name is Nolie and as you can see I am oh so clever and my blog is called Nolie's Place. For a quick who am I and what the blog is about you can check out the About Me page. My 2 favorite lines from that page that pretty much sum it all up is "Fluttering my way through life" and "We don't sugar coat anything". Oh wait did I just say we? That is because I do not blog alone. My lovely fiance Tobei pokes his nose in here every now and then and posts some pretty funny things. I think my favorite post written by him so far is one he did called Parent Tourette Syndrome.
Oh yes where was I. More about me. I am a stay at home mom to a 3 year old that is known as Little Man around here. He can be a handful at times but so are all kids. I like to help others and am always there for people when they need me. I really don't know what to say. These about me things suck.
Why did I start blogging? Oh again I win. It is on the About Me page. I love how I already have all these questions covered.
Anyways have a look around, make yourself at home and leave me a comment. Tell me one fun fact about yourself. Can be whatever you want. Looking forward to getting to know everyone and taking part in Bliss at Home '11.