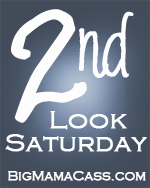 Cass over at BigMamaCass had a brilliant idea that I decided to take part in. It's a chance to showcase an older post that newer readers may not have seen or that regular readers may like to see again. The only problem with this is that my blog is only 3 months old. However I am going to try my best to take part. May be an incentive for me to write better posts.
Today I draw you attention back to My First Words, originally posted April 15th. I think it also fits well with Cass' post choice for today titled My Epiphany.
It was winter. That is about all I know as when my mom tells the story I am wearing a snow suit. We had just gotten back from doing groceries. While my mom lugged the groceries up the stairs in one hand, she carried me by the back of my snow suit in her other hand. She got to the top of the stairs and leaned me in the corner facing the wall while she unlocked the door. As she is unlocking the door she hears a small voice saying over and over again "F*** You, F*** you, F*** you". She looks around to see where it is coming from and there I am poking the wall with my little finger saying these words.
Yes ladies and gentlemen this is the great story my mom loves to share about some of my first words. Then she wonders why I now battle with my potty mouth on a daily basis to not swear in front my child